Coastal ME advocates the promotion of electric boats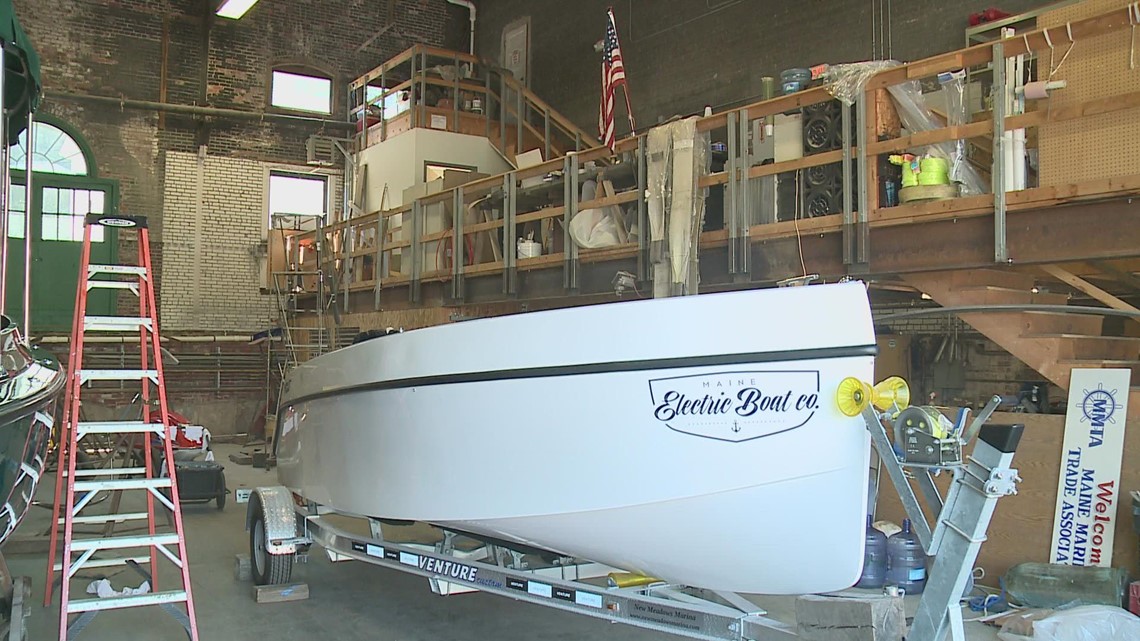 Maine Electric Boat currently sells a range of boats made in Canada, with the electric propulsion system manufactured in Europe.
BIDDEFORD, Maine – The slender, covered boat glided almost noiselessly down the Saco River, making a speed of about seven knots.
The boat can accommodate up to eleven people, according to Matt Tarpey of Rumney's Boat Yard, similar to the pontoon boats or party boats seen on many Maine lakes.
"I've called it a cocktail boat in the past, and people always say every boat is a cocktail boat," Tarpey joked.
What makes the boat unusual is that the power is supplied by electricity.
Tarpey believes he is at the forefront of the development and use of electric boats. His separate company, Maine Electric Boat, currently sells a line of Canadian-made boats, with the electric propulsion system made in Europe.
They also have a larger prototype outboard motor from the same manufacturer, which he claims can reach a top speed of around 30 knots.
"We've been to various boat shows, the most recent being Rockland last year. And there was a real surprise that something electric could go so fast," Tarpey said.
He said a Rhode Island company called Flux Marine plans to introduce its own bigger and faster electric outboard later this year, one equal to 70 horsepower. This, he said, will make electric performance comparable to many outboards currently used on the Maine coast and lakes.
Tarpey called the development a "game changer" and said there is growing interest in the boating world from those wanting to try electric motors to replace fossil-fueled gasoline models.
"We have received many calls from captaincies, marinas and oyster farmers who have heard of the projects we are working on this year and [the] first of next year. There is a lot of interest," he said.
However, there are clearly questions, mainly about the autonomy of these battery boats and the charging process.
The Island Institute, a leading advocate of Maine's coastal economy, hopes to provide the answers.
The institute has launched a project to promote the use of electric outboard motors for the waterfront in order to combat climate change.
"A big part of our job is to bring clean energy solutions to Maine's marine economy," said Sam Belknap of the Island Institute.
Belknap said the institute had held meetings with various marine industries and found interest in being able to switch to cleaner energy.
"Because they recognize how intimately the ocean and its sectors are influenced by climate change, and this is a small way to start limiting their impact, by switching from fossil fuels to electric power," said Belknap said.
The institute's main focus is on waterfront work, particularly aquaculture businesses, according to Belknap. And that might lead to some of the answers regarding battery life and performance.
Belknap said the institute was conducting studies this summer, working with some of those companies to determine how much their current engines are actually used during the day.
Expected battery life for the new, larger motors is estimated at 90 minutes at full speed, but Belknap said most of the time the boats can be tied to a float or buoy while people are working, and don't actually move. He said they hoped to show that electricity can meet the working needs of these businesses.
Belknap also hopes the grant and funding programs created by the institute will help commercial users switch to electric, which will be more expensive due to battery systems.
"We're not talking about a cheap effort, but it's a lot less than what we'll incur if we continue down the path of using fossil fuels to support our heritage industries," Belknap said.
Both Belknap and Tarpey predict the changes could come fairly soon, once potential buyers see the power and reliability of the next generation of electric outboards.
It will also require the installation of fast charging on land and the development of other solutions for charging boats on water, which Tarpey said he is also working on.
"By 2025, we will have 100 electric ships on the waterfront in operation," Belknap said. "As people see that this technology is functional and makes sense, reduces their downtime and business costs, I think others will quickly adopt this technology."
More articles about NEWS CENTER Maine