Vancouver small business frustrated with Canada Post costs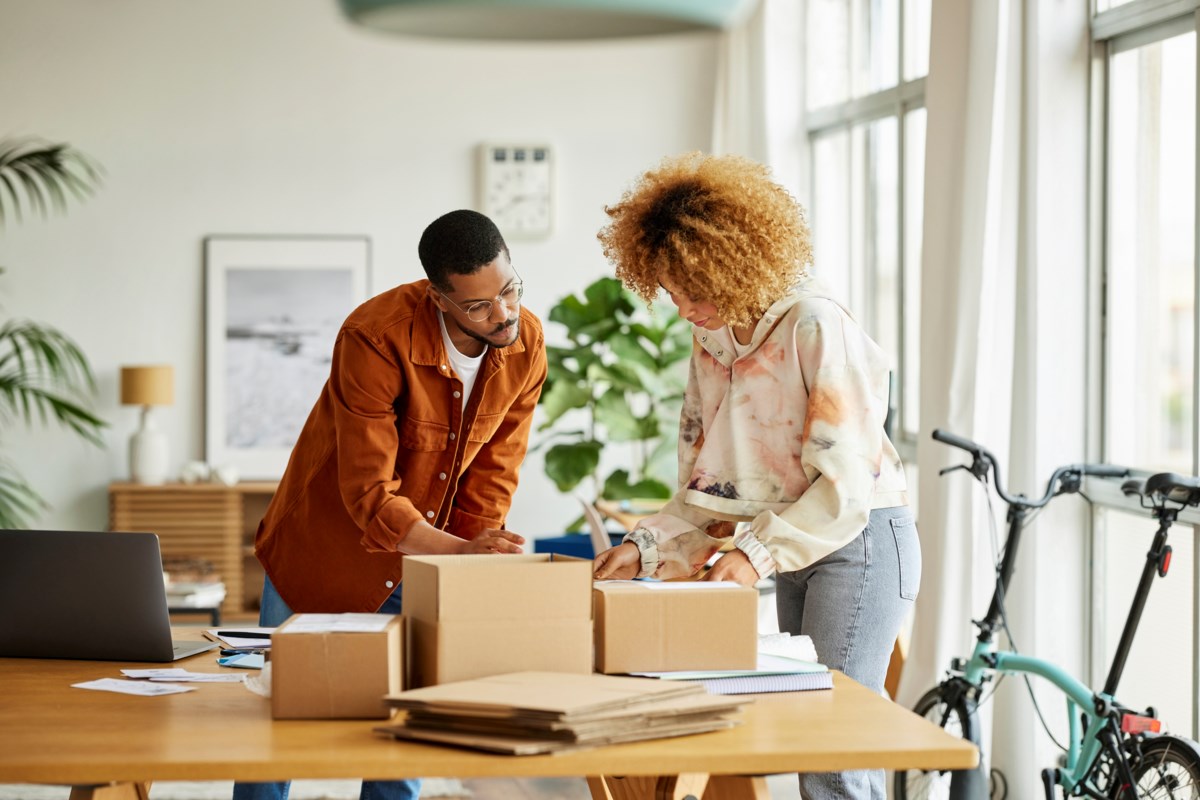 "The losses of this type of scenario per year were several thousand [dollars] for sure."
Be fed up. Frustrated. Concerned.
That's the sentiment of small business owners in Vancouver who deal with Canada Post, even though a spokesperson for the postal operator says "parcel rates are fully competitive within the industry."
When the Canada Post Corporation Act came into force in 1981, the federal government's Post Office Department was abolished and Canada Post became a Crown corporation with the "exclusive privilege" of delivering mail in Canada.
The intention was to provide financial security and independence for the Postal Service, but lately many small businesses are feeling the pinch of this arrangement with high shipping rates, lost packages and poor customer service without another alternative to turn to.
How do prices affect small businesses?
"The prices are so high and the service so appalling that it had a noticeably positive impact on my businesses when I crossed the border," says Eleanor Lecocq, a lawyer and owner of the former jewelry and scarves business in cashmere Elle. Florence.
He moved to Seattle in 2019.
"If you shipped from regular Canada to the United States until at least 2019, you have no tracking. I remember it was around $13 per bubble mail, so not cheap," she explains.
"It took about 2 weeks but if [it got] delayed there was no way of knowing it and I often had to reimburse customers who did not understand the problem coming from the USA where it takes 3 working days on average. The losses of this type of scenario per year were several thousand [dollars] for sure."
Lecocq is not alone in suffering product losses, and some people have also reported damage.
Shoubi Wu is the owner of Vancouver-based tableware company Lineage Ceramics and has faced reports of breakage while using Canada Post as a courier. The rising cost of shipping rates has forced the company to lay off staff, she adds, and raise prices for its retail and wholesale products, which has also led to lower sales.
Similar issues are reported by Randa Salloum, owner of the pre-loved luxury store Collective Will.
"It keeps a lot of people from checking out my online store. Shopify and Canada Post charge between $13 and $15 in Vancouver and over $40 in Toronto. It's really screwed up!"
She says she tried to offer free shipping on orders of $75 or more, but it cost her too much money, and even when she changed it to $120, she had to shell out more than $25 out of pocket to ship something to Burnaby.
Imogen O'Neal, better known on the internet as Hazel Witch, has run an online crystal business and offered free shipping on orders over $100 since she started her business, although it's is one woman.
"Honestly, I know the free shipping option is important to my customers," she shares. "I've often thought maybe I should take it off. At the end of the day, I always decide to pay out of pocket, because I don't want to disappoint my customers. There's definitely no magic way to 'offering free shipping is really coming from my own money now more than ever.'
Like Lecocq and Wu, O'Neal has also experienced package loss and damage, but thankfully says it's easy to file a claim on domestic packages and get reimbursed by Canada Post.
"However, tracked shipping to the United States is very expensive via Canada Post, and untracked shipping means I have virtually no guarantee that my orders will be delivered," she adds. "If I were to use Canada Post and use an untracked shipping method in the United States, there would be virtually no insurance or protection if this package was lost."
Finding workarounds and solutions
There are also other private shipping services, like DHL, that smaller businesses could use, but Salloum says they're largely inaccessible to customers because there are fewer locations. Canada Post is at Shoppers Drug Mart, London Drugs, and everyone has one nearby.
For shipping to the United States, O'Neal and many other companies have turned to third-party services to circumvent Canada Post's US shipping policies.
Rachel "Tuna" Petrovicz, runs an illustration business under the name Art By Tuna and started out selling everything from stickers and enamel pins, to short-lived designer toys and graphic novels, but in Due to rising costs, it shifted its main offerings to paper goods. avoid shipping above lettermail rates.
They have also used several tools to reduce shipping costs, such as a slot box, which is a specially designed box to ensure that the shipment can fit in letter post slots.
Petrovicz and O'Neal also use ChitChats, an intermediary shipping service that transports and delivers packages directly to USPS for US and international shipments, so packages are shipped "domestically" within the United States. Petrovicz isn't sure how they're able to offer such discounted rates, but says, "there are a number of services that can do that these days."
Canada Post told VIA by email that they "determine shipping rates based on several factors, including origin and destination, which also take into account population densities. The weight and size of the package, the costs of processing, transport and delivery are taken into account in the tariff.
"Given our dual mandate of remaining financially self-sufficient and providing affordable postal service to Canadians, we work hard to keep prices reasonable and competitive and provide options to meet a range of needs.
They also offer small business accounts that provide entrepreneurs with pickup service and up to 34% off shipping within Canada and up to 58% overseas.
Are Small Business accounts really useful?
Petrovicz says that even with their small business Canada Post account services like ChitChats, they offer better rates.
O'Neal also explains that since 2019, the usefulness of the Small Business account has declined significantly.
"At first it was very helpful for me to reduce my shipping costs. I was able to get a few dollars off each package, which was especially helpful when I was just starting out and didn't have a lot of money to spend out of pocket. Shipping costs have been steadily increasing since then, to the point that my small business discount doesn't really complement much of the cost," she says.
"It's largely because of the fuel surcharges that Canada Post charges, which have just exploded over the past few months. For example, last week I sent a small package to Newfoundland, and the shipping itself cost me $19. I was able to get $2.50 off my business account, but the fuel surcharge was an extra $6.50 on top."
"Keep in mind that until last month, I had never seen fuel charges exceed the $3 maximum."
The fuel surcharge also contributes to domestic rates being more expensive than international rates because, according to Canada Post, "international shipping rates are set by the Universal Postal Union and its 192 members, as well as by bilateral agreements ".
O'Neal hopes to stick to its free delivery policy, but says "since the recent price hikes this year, it makes me more nervous than ever to have a small business."
"Owning a business is stressful enough and the possibility that Canada Post could continue to raise prices and mean that I should raise my shipping prices is worrying.
Petrovicz is frustrated on behalf of his clients who were once split evenly between Canada and the United States but are now largely south of the border.
"It's easier to make sales with better shipping rates," they say. "Luckily they at least seem to understand the small business situation and I'm not getting any complaints."
"I can't be sure how many sales I'm losing because of these high shipping costs, but as a supporter of other small businesses, I know I myself have been sidetracked by these costs in the past."