Nav Burst of Life LLC Quarterly Business Grant Winner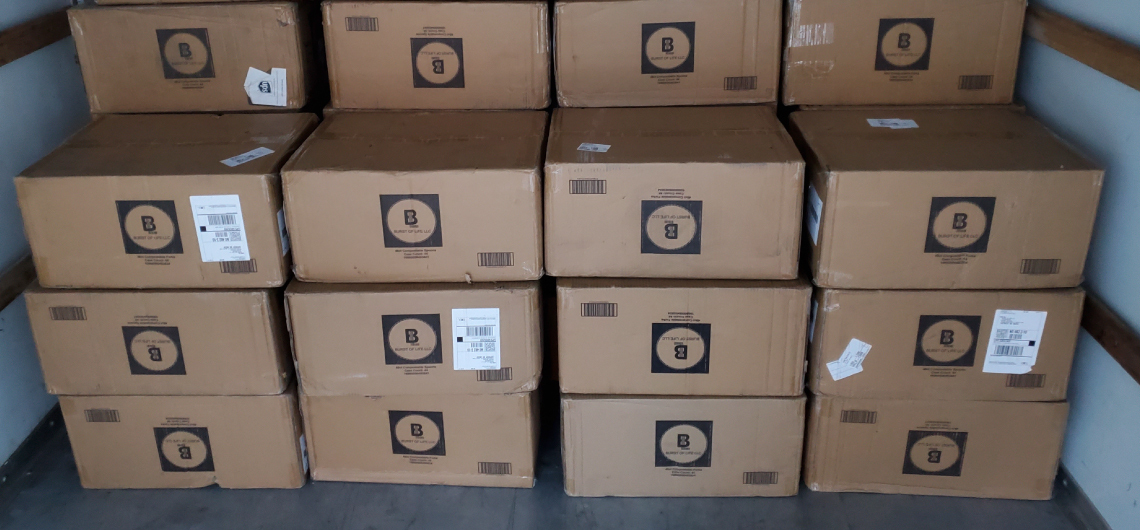 Personal and community frustrations fueled veteran Jarriel Brown's drive to create a company that gives back. Burst of Life LLC sells products focused on health and wellness, but the mission is much broader. "I started this company to create opportunities for people in need, especially in the black community and for veterans," he explains. Brown is the second winner of Nav's quarterly small business grant program, receiving a $5,000 grant.
The company's main product is compostable utensils, which are sold at Meijer stores in Michigan. He plans to expand the product line, first with smaller packs of 24 utensils instead of the current 48, then into additional compostable products such as cups and plates. He also wants to increase distribution in other stores.
His interest in compostable utensils was born from a unique experience. While serving in the Air Force, Brown and his military colleagues often found themselves in the field trying to eat hot meals with plastic cutlery that broke or melted. "We'd get stabbed in the mouth with a broken fork," he said with a grimace. He also noted that plastic utensils sometimes fall over, creating waste that doesn't decompose. It was a relatively small annoyance, but one that remained.
After returning to his hometown of Detroit, Brown discovered a passion for community service and worked on a project to help Flint Michigan residents affected by the lead crisis in their drinking water. He was frustrated that he couldn't do more. He missed the bustling Detroit he grew up in and wanted to play a part in its rebirth. "Businesses were doing better, which gave us plenty of places to make great memories," he says.
Realizing that entrepreneurship would be a path to help not only himself but others, he embarked on the creation of his company, launched in February 2020. "It was difficult," he admits. He started it with the help of his family and friends, relying on the funds he earns as a computer technician and with a small business credit card.
The credit card proved invaluable in helping him buy inventory and cover shipping costs before he could pay for them out of cash. "Through the use of this credit card, I have now been able to get our compostable utensils from stores," he explains.
Brown's church, Global Empowerment Ministries, has been instrumental in helping him grow his business. He took entrepreneurship courses and participated in many events. That's where he heard about the Nav Small Business Grant.
Brown says he's found Nav useful for comparing financial tools: "I like the bank comparison tools they offer to give entrepreneurs a clear view to review their checking account options and credit card options. credit." He adds that he was surprised to find the number of financing options available.
He also benefited from a business mentor who provided him with valuable advice. He says the smartest thing he did in his early days was to follow his mentor's advice. "It wouldn't be an overstatement to say that my mentor taught me everything I know about being a business owner and helped me start my journey to realize my vision," says Brown.
Brown enjoys receiving positive feedback from customers about the strength and heat resistance of its utensils and how they provide an alternative to harmful plastic. He also relishes every step his company has taken. "It's both humbling and exciting to watch something I've created grow before my eyes," he notes.
Dealing with inflation was a challenge, and he also learned that he needed to keep pace better. At first, he worked almost non-stop 16 hours a day, and he eventually got exhausted. While he remains laser-focused and diligent, he now takes a longer-term perspective, observing that running a business "isn't a race, so working fast doesn't always get you to the finish line. arrived more quickly".
Brown's goal is to expand the product line and get its products to retailers nationwide. The $5,000 he will receive as a Nav Small Business Grant winner will help him take things a step further.
Its faith, its community and its customers will be essential to continue this growth. "My company's vision for the future will impact many lives, and I need to push forward to be where I'm needed when it comes to helping them," he says.
class="blarg">